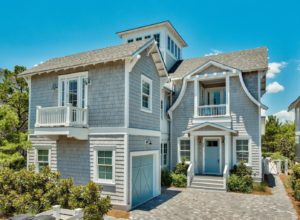 Thinking of buying a beach house? Fortunately, there are numerous coastal towns and beachfront properties to choose from when purchasing a seaside abode. While finding a beach house shouldn't be a problem, finding the right one can take quite a bit of researching and house hunting. Before you begin the search, make sure you have a solid understanding of your budget and needs, as well as a thorough understanding of the financial and weather-related risks involved. You'll also need to enlist a qualified Realtor who has ample experience buying and selling real estate in coastal areas. As you begin your beach house hunting experience, make sure to keep these 10 considerations top-of-mind throughout the home buying process.
Construction and foundation


Whether its hurricanes or nor'easters that threaten your beach town, ensuring that a coastal home is as weather-proof as possible is priority number one. Otherwise, your hard-earned investment could be destroyed due to severe weather. If the area has a high flood risk and/or plenty of storm surge potential, you should consider purchasing a beach house built on stilts. Materials should also be wind and flood-resistant, as well as strong enough to stand up against heavy rain and high temperatures. According to FEMA, the best building materials for coastal homes typically include concrete and naturally durable wood. Concrete is often considered the best, most durable building material for beach homes. These types of homes can withstand high winds and heavy rain better than most wood-framed houses.

Property management or HOA fees


If the beach house isn't your primary home, you may need some sort of property management service to take care of the house while you're gone. This means someone coordinating all pest control services, landscaping, maintenance needs and lease agreements. If the beach house is located in an HOA community, the HOA may take care of these needs for you. Fees for these services can be expensive and should be taken into account when budgeting for the beach house.

Roof


When buying a beach house, don't forget to consider the roof. The last thing you want is to purchase a home, only to find out later that the roof needs to be replaced. Due to the severe weather experienced in many coastal areas, a beach house's roof is sure to undergo more wear and tear than the average home. Replacing a roof can cost around $25,000, so it's best to purchase a beach house with a relatively new roof made of durable, weather-proof materials. Tip: look for a beach house with a metal roof. These types of roofs are highly wind-resistant.

Proximity to water


For many, proximity to the water is the single most important consideration when buying a beach house. Of course, you'll need to weigh the pros and cons of waterfront living. For instance, while living in close proximity to the water is certainly convenient and good for resale value, it's also sure to increase your flood risks and insurance rates. However, if the home is built with top-notch building materials, and you can afford the possible repairs, then living in close proximity to the water may be worth the added maintenance for you and your family.

Window durability


Two words: impact windows! When buying a beach house, the home's windows should be an important consideration. Choosing a home with durable impact windows will protect your investment from potential wind damage and wind-borne debris during hurricanes and severe storms. If you choose to buy a beach house without these windows, we highly recommend installing them soon after you move in. Not only will they protect your home, but they'll also lower your insurance costs, improve your home's energy efficiency and decrease loud noise levels.

Outdoor living area


Chances are, one of the reasons you're buying a beach house is to enjoy the great outdoors. So be sure to assess the beach home's outside living space. Do you have a patio or porch? How about an oceanfront view? Is the area peaceful or crowded? Does the house have a pool or outdoor recreational space? Whatever aspects are important to you, make sure the beach house checks all of your outdoor living boxes.

Flood risk


In addition to wind damage, flooding is responsible for a large amount of the damage caused by hurricanes and storms. For this reason, you must consider the home's flood risk when buying a beach house. Start by making sure that the home was built using flood-resistant materials. Then, research whether or not the home is located in a high risk flood zone. Even if the coastal home is not in a high risk flood zone, you may still need to purchase flood insurance. You should also consider whether the home is situated on an upward hill or a slightly elevated slope to prevent flooding during heavy rains.

Potential rental income


Do you intend to rent out your beach house? If so, it's important to assess whether or not the coastal home will be a good return on your investment. If the monthly fees, maintenance needs and initial costs are too much, the beach house may not be a wise short-term investment. Also, keep in mind that beach houses with more than one bedroom tend to get rented out more easily (and for more money!). So try to avoid purchasing a one-bedroom beach house, if you plan to rent it out. If the beach house is located in an HOA community, there are most likely strict rules about renting out your home. Make sure you have a firm understanding of all HOA rules before purchasing the property. In addition, we recommend researching nearby rentals to get a look at your competition. Pay close attention to the rates and make sure that the numbers work for your budget.

Insurance rates


No surprise here: if buying a beach house, you can expect your homeowners insurance rates to skyrocket. In addition, those living near the coast may be required to purchase flood insurance, which can be a costly expense. According to Investopedia, insurance premiums of "$10,000 or more for flood insurance is not uncommon for a Florida beach home." When buying a beach house, be sure to speak with your insurance agent about your insurance rates. Tip: always shop around for the best rates. You'd be surprised how dramatically the rates can differ from one insurance provider to another.

Neighbors


If you're looking for a peaceful vacation home, the last thing you want to do is purchase a property next door to a loud frat house. Make sure to do research on the street and neighborhood before buying a beach house. Whether or not the beach house has friendly neighbors willing to keep an eye on your place while you're gone is also an important consideration.